Inspired by Alberta's Rocky Mountains and exploring the synergies between art and a background in geology, artist Branko Marjanovic creates intensely resplendent paintings showcasing the region's raw, electric energy.
With an incredibly vibrant colour palette and an exciting impressionistic style, Marjanovic demonstrates a solid commitment to creating mood and emotion through art. Capturing the elements and inherent stunning composition of the countryside, the artist has maintained a unique originality to his method of communicating sound, design, light and shadow through idyllic imagery.
Marjanovic's fresh, invigorating use of contrast and easy depiction of line and form lend to his works a provoking quietude akin to immersion in nature itself; sparking an internal response equal to being in the physical presence of mountain peaks, rushing waterfalls and serene alpine lakes.
This Calgary based artist continues to paint these odes to one of Canada's most splendidly beautiful, untamed areas, bringing viewers along on an adventurous journey through a fantastical view of Alberta's rocky countryside.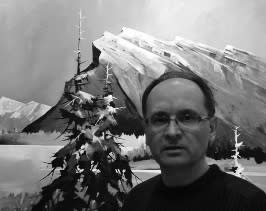 Branko Marjanovic lives and works in Calgary, Alberta. His passion for art has always been a driving force in his life. In his earlier years, he painted only for friends and relatives but is now living the vision of life that he has always dreamed of. During these early years, Branko was exploring art with the use of oils and watercolor, while current preference is acrylics. With the combination of a background as Engineer/Geologist, Branko's art displays both sound design and free flow.
Born in Europe in 1960, Branko immigrated to Canada in1993, settling in Saskatoon. He moved to Calgary in 1999 and was immediately fascinated by the Canadian Rockies whose landscapes he captures in his distinctive style and palette. Being an artist for over 30 years, he continues to evolve; however he has never lost the originality he displayed in his earlier years as a self taught artist. He spends his summer weekends and holidays hiking in the mountains where he photographs, sketches and paints.
Branko's work has been displayed in private collections throughout Canada and the United States. His work has been presented in Galleries in one man and group shows in Alberta and British Columbia.