Kari Duke's work presents viewers with surprising subject matter, evoking a sense of stillness and silence in contemplation of the simplicity and unexpected loveliness of back alleys.
Duke's work maintains a certain air of sentimentality reminiscent of a simpler, bygone era. The focus of the artist's work, these peaceful, serene unpopulated scenes, draw viewers into the artist's curiosity for an uncomplicated representation of everyday life. Enamoured with the play of light and reflections in partially shaded, mid-season suburban lanes, Duke celebrates the intrinsic allure of naked trees, deep snow and reflective surfaces with a romantic air, intermittently subdued colour palette and the brilliance of an unencumbered, azure blue sky. The realism of Duke's world is as comforting and charming as the sense of solitude each piece induces, painted in a manner that is all at once poised, refreshing and modest. These elegies to tranquillity are delightful ruminations on an easy appreciation for conventional moments.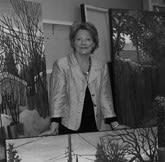 Kari Duke, is a self-taught artist, living in Edmonton, Alberta in a small community near the University of Alberta. The area is surrounded by urban alleys that tend to reflect an untouched and overgrown environment.
"I find the reflections in the puddles, after a heavy rain, or the play of light on the old fences to be an exciting subject matter. The naked trees in the winter, the deep snow, and the simplicity of the old back alleys in changing seasons, is what draws me in time and time again."
Kari Duke's work is portrayed by many as romantic and reminiscent to the public of a simpler time. The colorful paintings have a fresh confident feel that captures the charm of an earlier era, and the Canadian icon aspect of her work speaks to those not only in Alberta, but all across Canada.