Kevin Ghiglione marries a decidedly urban vibe with highly texturized, multilayered works that explore the passage of time and the depth of emotional connection.
Employing encaustic mediums, Ghiglione paints layer upon layer in what the artist describes as an additive and subtractive manner; creating visual drama through the excavation of the lower stratums of earlier placed imagery. Generating highly varied textures and exposing colour and form, the artist composes 'visual music' through an antiquarian patina and street art like underbelly. Utilizing a complementary but highly contrasting colour palette and subtle placement of line, Ghiglione masterfully captures the impression of time worn snapshots of an assumed larger image. The artist encourages the consideration of time and composition in a narrative centred upon rediscovery, loss and renewal. Each piece highly unique, Ghiglione's work is a resurrection of story, time and the unexpected unification of elements and layers as seen through the eyes of an artist that firmly celebrates a viewer's responsiveness to art in seemingly ordinary objects.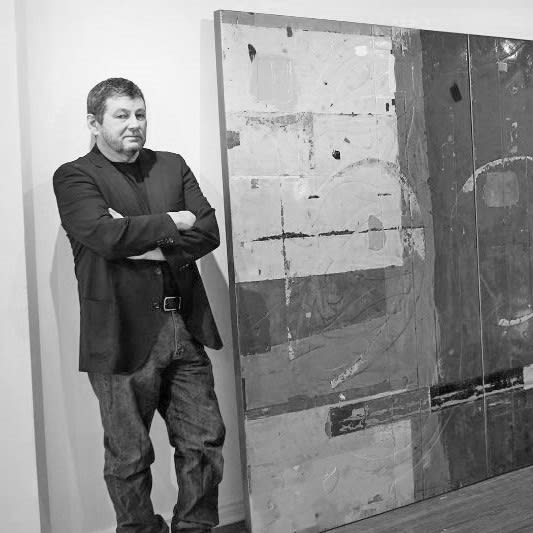 Kevin Ghiglione's abstract encaustic paintings are inspired by the mark of mankind through time. His textural artworks suggest the passage of time through excavated vestiges of architecture, communication and evidences of wear.
Kevin is represented in Calgary by Gibson Fine Art and in Toronto by Muse Gallery. His work is in collections across North America and Europe.
A native of Saskatchewan, he attended the Alberta College of Art and Ontario College of Art where he studied print making, experimental media, photography, communication arts and industrial design. His working career has led him into various art related fields. Kevin brings four decades of artist experiences to his encaustic painting process. Kevin resides in Toronto, is married with three children and creates artwork full time.