Calgary-based visual artist Pam Weber creates vibrant and visually uplifting paintings that offer a distinct, playful perspective on everyday vistas.
Highlighting design, shape and a multifaceted underpainting to ground each boldly contrasted piece, Weber manifests an inviting realm of memory, fantasy and story with a complexity of surface and a sense of visual play.
Encouraging lingering contemplation, Weber maintains a respect and appreciation for the individual, emotional reactions to her work. These narratives on home, community and close relationships, elevated through an imaginative and luminous layering of colour, shade and texture, lend to the artist's paintings a sense of play and escape that draw viewers into a familiar yet often illusory world.
Weber is highly successful in melding a sense of mystery, surprise and delight in her paintings, consistently enchanting viewers and collectors alike.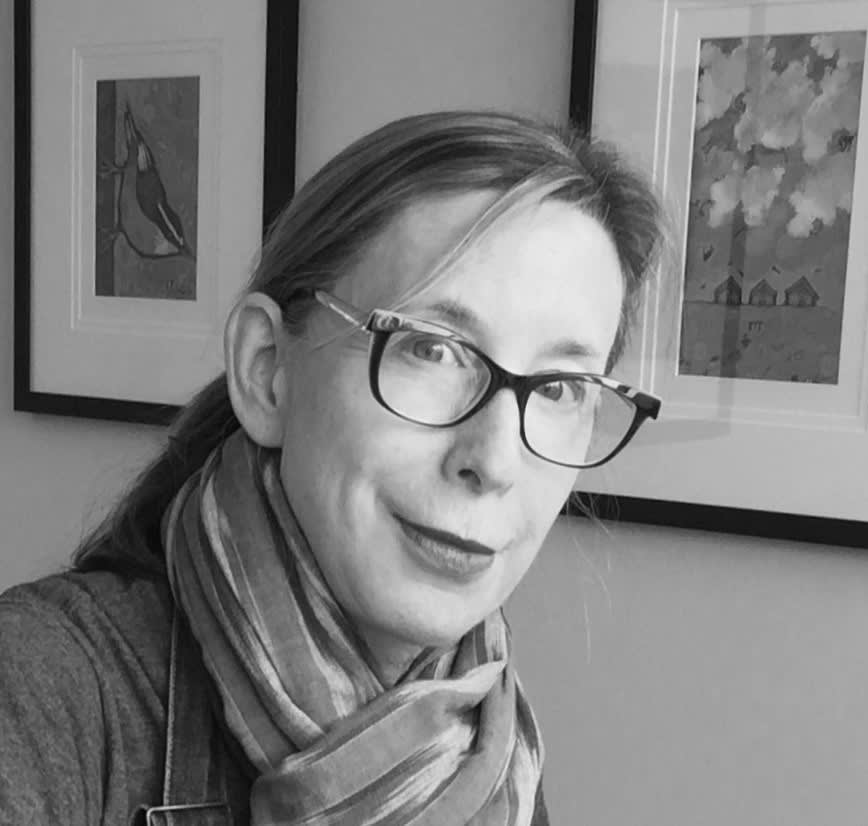 Pam Weber was born and raised in Kitchener, Ontario.
She graduated from University of Guelph in 1979 with a Bachelor of Arts degree with a Fine Art major. At Guelph, Pam studied a wide variety of art mediums, from figurative drawing to sculpture. However, it was printmaking, under the direction of accomplished printmakers Walter Bachinski and Gene Chu that gave her the greatest challenge and satisfaction.
In printmaking, Pam found, what was for her, in art, an ideal balance between the creative artistic vision and the importance of following a measured process.
Not surprisingly, upon graduation Pam started working in the commercial printmaking business. In 1981 she started Oink Ink Productions, a screen-printing company, with her business partner in Kitchener. This venture allowed her to combine her creativity with the challenges of owning and operating a successful business.
In 1984 she married and moved to Ottawa, where she continued to study lithography, serigraphy, and graphic art, at the Ottawa School of Art and Algonquin College. While employed as a production artist at a screen-printing enterprise, and later a publishing company, she still managed to get involved with the local art community. Pam also had a brief stint as an opaque artist, applying her brush to acetate film, for Hinton Animation Studio, the producer of The Raccoon series.
Gradually, Pam changed her medium from printer's ink to mixed media and collage, finally to acrylic paint. In acrylic paint, Pam found a long-running medium in which to create her signature bold and colourful images.
In the summer of 1995 she moved to Calgary with her husband and three sons which provided an environment to explore a compelling new subject matter, the Western landscape.
She is an active member of the Alberta Society of Artists as well as an AFCA status from The Federation of Canadian Artists, Vancouver. Her unique style, vibrant palette, uplifting imagery offers the viewer a joyous escape into her world.