Kentree Speirs paints in a raw and highly figurative manner that reverberates the essence of the rugged, mountain landscapes that his dynamic work celebrates.
Speirs is intuitively guided by passion for subject matter and the vitality evoked by nature. Utilizing a synergy of line and abstraction, the artist draws viewers into a fantastic spectacle of vibrant colour and form that generates a lasting imprint of the unearthing of land through paint.
Entering into a partnership with medium, Speirs opens up to the process of creativity in order to access a field of pure inspiration that reflects the vivacity of the natural elements distinguished in his work. Each piece is given freedom to discover its own direction - permitted serendipity of arrangement, colour and final imagery.
Speirs' work is an allegory of the dramatic beauty of untouched places and wild landscape. With energetic movement in expressively blended shape and pigment the artist demonstrates constant curiosity for the progression of each individual painting and the incarnation of untamed wilderness.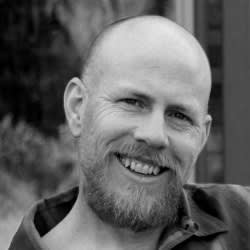 "I am interested in the event of painting. The informative process which unfolds as a painting evolves, is a constant curiosity. My intention is to let go of formulations and ideologies in order to gain access to work that is inspired by, and reflecting, the aliveness of nature. Properties of paint, color, mark making, and their relationships direct me in the process; each layer of additional color and shape brings new interactions. As these relationships expand, each painting develops in its own direction. I am awed by the raw beauty, the drama, and the silence of untamed places. Since I am an inseparable part of this British Columbia landscape, these majestic mountains are a vital part of my work. "
Kentree and his family reside in Kaslo, British Columbia, Canada and he is a full-time studio artist.