Canadian landscape artist Erin Ross presents a greatly illustrative and romantic view of the Alberta prairies focusing on literal imagery and moody pastoral vistas.
Constantly exploring the brooding colour palette of the "Golden West" amidst the change of time and sky, Ross creates elegantly deconstructed and reconstructed expansive views of the intrinsically beautiful wide-open terrain of Alberta's softly sprawling plains.
Ross, whose work is a deep reflection upon her surroundings, plays with nostalgia, the familiar and individual perceptions to artfully represent the electric solitude of the panoramas highlighted in each work. Utilizing superbly glowing hues, to generate warm undertones and an unexpected quietness, the artist elevates each work with a splendid use of natural contrast and composition.
While focusing on shadow and the moody overcast of cloud cover, Ross's work maintains a masterful introduction of pure, ecstatic light and luminosity that creates an invigorating entry into a deeply engaging idyllic and realistic view of countryside.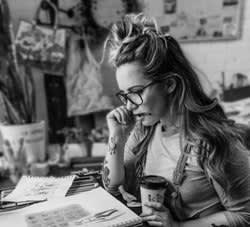 Erin Elizabeth Ross lives and works in Edmonton, Alberta. She holds a BFA from the University of Alberta, and studied Visual Communication and Design at Medicine Hat College. Her work has been represented in commercial galleries since 2008, and sits in multiple private and public collections. Along with her commercial representation, Erin has had work in shows at the Art Gallery of Alberta, Latitude 53 contemporary Art Gallery, Harcourt house, the Art Gallery of St. Albert, and created an 8 panel public art piece for the city of Edmonton.
Public attention for Erin's work has included an award of excellence in Illustration from Communication Arts magazine, a feature article in Avenue Edmonton and SEE Magazine, a documentary segment on Alberta Primetime, and interviews with CBC Radio One, Profile magazine, Shaw TV, Telus TV, the Edmonton Journal.