Celebrated Canadian landscape artist Holly Dyrland specializes in a pictorial love affair with the natural beauty of Alberta's rural and alpine regions with vibrant, breathtakingly orchestrated views of the prairies, back country roads, mountain lakes and sprawling cerulean skies.
Rejoicing in memory, energy and connection, Dyrland's visual odes to the Canadian western prairies and mountains glow with the stunning simplicity of environment and the natural composition of colour, shade and line found in everyday scenery.
Using long, expressive, almost rough brush strokes, Dyrland vividly creates a sense of movement, vivacity and excitement in each highly animated, reflective work. With a crisp colour palette and delicate attention to light and contrast, the artist breathes effervescent life into each stunning piece.
Sprawling landscapes and entrancing views offer deep perspectives, drawing viewers, hypnotically, into a seemingly endless vista – roads wind into the distance, fields meld into the horizon, sky and land become one.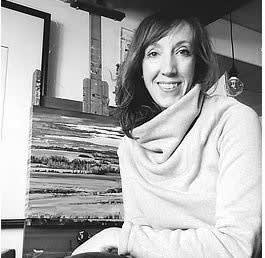 Holly Dyrland is an Alberta based artist who spent her childhood drawing and painting. Holly continued her love for art into a degree in Interior Design from Mount Royal University where she used her artist talents in a more technical application. Her Interior Design education and experience also allowed for her to master the elusive art of perspective. Holly now lives in the country with her husband and three boys and draws inspiration from her daily life and experiences.
Holly states "being an artist awakens my joy every day from the way the light will arrest my attention as it reveals things my eyes didn't previously see to the way capturing something on canvas triggers my imagination, memories, and connections from life; I feel so privileged to paint. I hope that my work inspires you and takes you to those places in your memories and life connections that bring you joy! I simply love to paint!"