Adventurous and dynamic landscape artist Charlie Easton transports viewers to pristine and often unscathed expanses of almost unfathomable splendor where environment is sweepingly presented in all its raw and unfettered serenity.
Employing softly illuminated hues and energizing contrast, Easton brushes the viewer through a magnitude of scenery rooted in the ignition of dreams. Dappled, trickling light highlights seemingly impossible perspectives as the artist's work conjures the sensation of flying into and across surreal vistas and clandestine lands.
Easton's vibrant works are an artistic tour of the places one finds it easier to breathe. Each painted feature seems to expand and contract before the viewer's eyes, inhaling and exhaling through a telling conversation with nature. Stripped down to the essential elements, removing all the noise that follows one in their daily life, the artist's billowing scenes bring the viewer intimately nearer the spaces where one's heartbeat can be heard from within.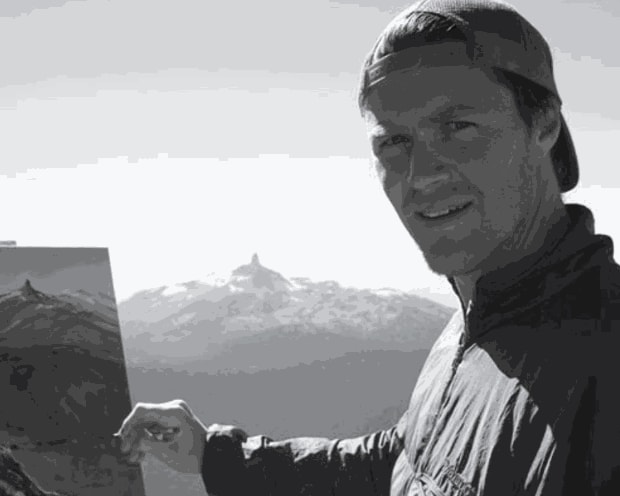 Charlie Easton comes from a family of British artists. He moved to Canada in 2006 and immediately fell in love with the same scenery that inspired many of the Group of Seven.
A prolific painter of landscapes and seascapes in both oils and acrylics, Charlie is represented by galleries across North America and Europewhere he regularly has solo exhibitions of his work.
He is a Senior Signature Member of the Federation of Canadian Artists (SFCA) and has studied at the Slade School of Fine Art, at Emily Carr University, and at many workshops worldwide.
Charlie has a studio in Vancouver, but his first love is painting on location in BC, Alberta, California and beyond. He has had residencies in Haida Gwaii, with The Haida Nation and Parks Canada, in Banff and in Whistler.
"In my work I invite the viewer to come hiking with me, to ski by my side, and to see the same stunning views that get me so excited to be alive! I try to focus all my energy on capturing the elements in a scene that make it meaningful to me. Expending energy on anything that gets in the way of the story just isn't worth it. I paint in a style which mirrors my life motto. Maximum fun, minimum fuss."