The electrified work of David Wilson offers up a storied love affair with light and the radiance of water at play on city streets which results in paintings that transform the bustle of metropolitan scenery into enchanting tableaus.
With an underbelly of deep luminosity Wilson's pieces firmly highlight the spectacle that is the dance of liquid and effervescent light in municipal settings. Artfully capturing the reflective quality of soaked streets and pools of rain the artist renders distortion somehow conversant and comforting at once with moody contrast and an almost neon like colour palette. The magic of a city evening becomes aglow with a spectacle of starry hues, powerful shade and a deeply soothing aura of fluent familiarity.
Wilson's predilection for elevating the inherent beauty of the urban landscape has made the artist a well-known master of the translation of internal reflection into an external mirroring of light before our eyes.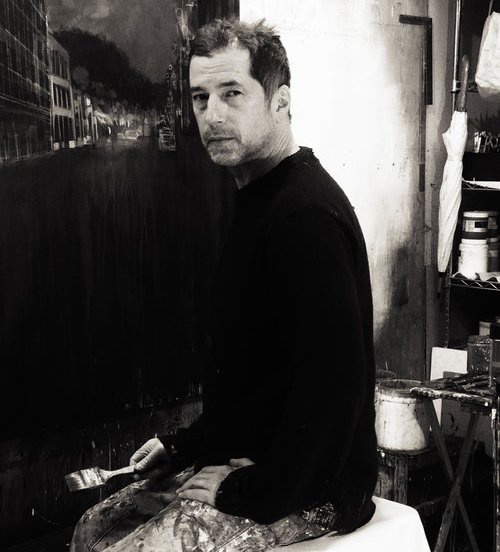 A resident of Vancouver on the West Coast of Canada, my creative interests began at an early age, essentially from the time I could hold a pencil in my hand. My interest in art solidified in high school where I was exposed to the concepts of painting and the studio practice. Primarily self-taught, during the mid-1990's I enhanced my artistic proficiency via selected studies at what was then Emily Carr Institute of Art and Design in Vancouver. From that time I have established a prolific painting career and a strong following of my work in Western Canada via many group and solo exhibitions.
Visits to galleries in New York and experiencing artists the likes of Anselm Kieffer, Cy Twombly and Alberto Giacometti's work firsthand taught me the value in allowing my own work to spill onto and off of the canvas. Their diverse approach to painting revealed to me the value in relinquishing absolute control and to allow the paint run where it wants to. My own practice primarily focuses upon the process of utilizing light, colour and composition to create cityscapes that reflect the pulsing, thriving energy found within the urban landscape.
As I work I prefer to use representational subjects as a jumping off point to explore the abstractions found within a given composition. Brushes, scrapers, rags, pencils, crayons, spray cans and various other mark making tools are used to apply a variety of mediums to either canvas or board. Each painting comprises numerous layers of representation, text and symbols that may or may not eliminate evidence of preceding layers. There is an underlying tension in the work that exists between my application of very wet paint and the surrendering of its control as it runs down the canvas. It's always a question as to how much control I exert upon it and how much I let it go where it wants to. In my mind, life is very much like water in that it eventually finds its own balance and I see that reflected in the way I like to paint. Over the past 15 years my work has been collected both nationally and internationally via an extensive exhibition history of both solo and group exhibitions. I work full time out of my studio within the renowned Parker Street Studios in Vancouver, BC.