Nova Scotia based artist, Shelley Mansel marries an inherent awareness of tone with a bold, simplistic use of line and contrast to create ethereal works celebrating landscape, nature and everyday scenes.
Mansel's intoxicatingly refined images present a strong sense of serenity and calm with soft, gentle hues and a deeply distinguished colour palette. Sharply distinct form and crisp brush strokes render the artist's works into highly focused yet dreamlike similes for the snap shot views captured in day to day moments and memories.
These highly defined and differentiated paintings are testaments to rural and environmental perfection highlighted by an appreciation for the intrinsic beauty of our natural world. Mansel's works allow for slipping into the quietest of reveries and most unassuming of stories. Each of the artist's pieces is a presentation of ordinary yet unexpected splendour as the artist expertly draws viewers into a solemn yet elated world of shade, mood and tranquillity.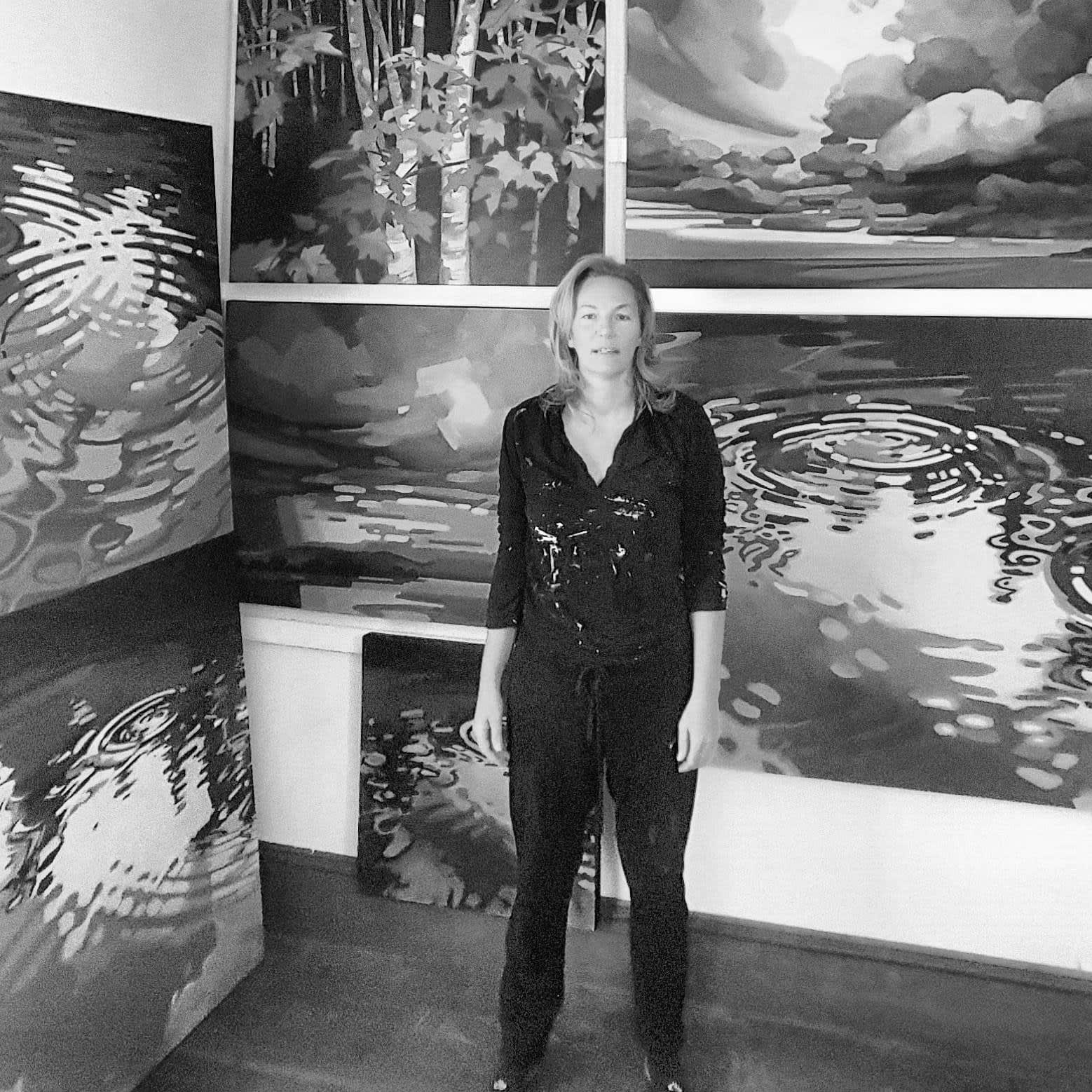 Shelley Mansel's professional artistic career has spanned 20 years and has been devoted almost exclusively to painting the landscape. The landscape construct provides the foundation for her painting, yet each body of work has portrayed a specific sub-theme within this context, as evidenced in these past exhibits:
New Work (2019) Shelley Mansel/ Drew Klassen included water ripples, fires, and rainstorms.
Six Acres I (2013) and Six Acres II (2014) were pastoral landscapes with an inward forest focus.
Armature (2009) and Relics (2011) were explorations of shipwrecks and underwater landscapes.
Divining II (2007) found thematic and visual congruency among rivers, fences, and freeways.
Geothermal/Six by Two (2006) which examined the effects of natural and human forces upon a barren terrain, Ideas of Order (2005) which explored the aerial perspective of urban and rural alignments inherent in the man-made landscape.
Divining (2004) which depicted topographical views of river systems.
Her formal strengths with respect to draftsmanship, colour, composition, and luminosity support her ability to restrain the landscape to its most elemental forms and convey a conventional and idyllic portrayal of geography. Her paintings demonstrate a timeless and universal quality, yet the beauty
of each image also alludes to the inherent ephemeral nature of landscape.
Mansel excels within the landscape genre. She portrays rural environments which are distinctly Canadian and yet are invariably universal. Shelley Mansel is committed to an artistic practice which examines the natural world and how we, as artist and viewer within this realm of painted invention, can often visualize and find context for our own human reflection.