Figurative artist Chris Langstroth masterfully represents the human figure creating 'visual plausibility' through multilayered, enigmatic works that utilize vibrant hues and bold definition to subtly express form.
Enamoured with the physicality of thick paint, Langstroth employs knives in painting to transform pigment from mere paste into striking depictions. Seeking to retain some visual evidence of the process, the artist revels in abstraction resulting from heavily applied layers, excavation of imagery and a blending of colour and hue that results in paintings with an almost stained glass like edifice. Shades are intermingled as they are elegantly swept across the canvas producing a reflective like quality to the expertly applied layers of strong edged strokes. As though seen through a haze or in the midst of rapid movement, Langstroth's work requires the viewer to look closer; to be drawn into the refined details found in gracefully a amalgamated elements of nature and humanity.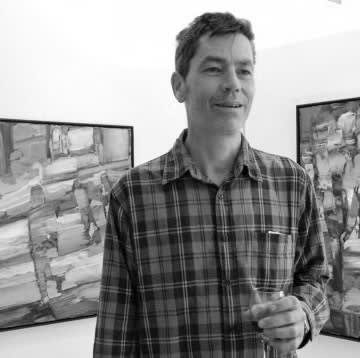 Chris Langstroth has been a full time artist for twenty years after attending Ontario College of Art, and later graduating from Ryerson University in Toronto, specializing in film and photography. He has participated in numerous solo,group and juried exhibitions, and has his works in many corporate and private collections.
"This year, I have been concentrating, increasingly, on ways of representing the human figure (in whole or part).I enjoy the physicality of thick paint and use knives to smear on one wet layer over another or to excavate through existing layers. Although I strive for a certain 'visual plausibility' in my work, representational accuracy is not my prime objective. The most enigmatic and interesting qualities particular to painting, have to do with the transformation of pigment in paste to an image on canvas.I am, therefore seeking to retain some visual evidence of the process used in making the image as a subtext for reading or interpreting it."