Barbara Amos generates surreal, temporal works that evokes a sense of extreme tranquility through almost bioluminescent hues and tones.
With a concentration on change and transformation, Amos regularly focuses on twilight, which she refers to as the transition hour. Utilizing a soothing colour palette and serene subject matter, the artist reveals the transitory nature of light and time through works that feel comparable to a crisp inhalation of cool air. These deeply connected, dreamlike images cover a wide range of landscape and territory speaking to Amos' love and concern for the environment and multicultural issues. Each highly peaceful work is a quiet pause of reflection on the natural beauty of our surroundings and the fleeting window of time to behold a singular view in its final instant of splendour. Lulled into a meditation on a fading moment, viewers of Amos' work are treated to a rendering of refracted daylight that allows one to linger in that magical space of time between day and night, where all things are possible.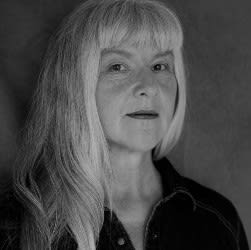 Barbara Amos is an artist who enjoys collaboration and an exchange of ideas. She has
25 years of experience in creating work that encourages inquiry about our role in the
world and the changes that will make it a better place. Projects that address
multicultural issues and environmental concerns have been the context for most of her
artwork. She has created temporal works, insitu artworks, photographic projecs,
paintings and sketches as a response to her place in the world and her community.
She is represented by 2 galleries, completed 5 public art commissions and has over 20
years of experience on boards for non-profits. She has a degree from the U of Waterloo.
In 2018 she completed a Social Innovation Certificate through Mount Royal University
and was one of 10 artists invited to be a member of the Trico Changemakers Studio at
Mount Royal University. She participated in the presentation of the pilot project at the
Ashoka Changemakers conference in San Diego, Feb 2019. Her artwork is over 25
private and public collections.