Barbara Amos generates surreal, temporal works that evokes a sense of extreme tranquility through almost bioluminescent hues and tones.
With a concentration on change and transformation, Amos regularly focuses on twilight, which she refers to as the transition hour. Utilizing a soothing colour palette and serene subject matter, the artist reveals the transitory nature of light and time through works that feel comparable to a crisp inhalation of cool air. These deeply connected, dreamlike images cover a wide range of landscape and territory speaking to Amos' love and concern for the environment and multicultural issues. Each highly peaceful work is a quiet pause of reflection on the natural beauty of our surroundings and the fleeting window of time to behold a singular view in its final instant of splendour. Lulled into a meditation on a fading moment, viewers of Amos' work are treated to a rendering of refracted daylight that allows one to linger in that magical space of time between day and night, where all things are possible.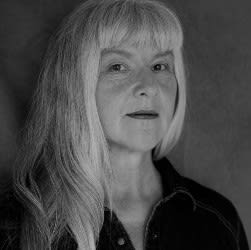 Barbara Amos (aka BAMOS) is an interdisciplinary artist who has addressed social and environmental issues for the past 30 years. A background in various drawing and painting materials has evolved to include photography, video, sculpture and recycled textiles. Her public art projects have included a community centre, a health care facility, a park beside city street, in a junior high school and an international sculpture garden. Her work is documented in books and online press. She has served on various expert panels within the arts community.
The Trico Changemakers Studio at Mount Royal University invited her to participate in an ongoing partnership between creativity and complex social problems. Subsequently, she completed a certificate in Social Innovation at Mount Royal University many years after her degree from University of Waterloo.
She maintains a daily studio practice as a place to restore, balance and laugh.
Interview with Barbara Amos: https://calgaryartsdevelopment.com/barbara-amos/