Jean Fosbrooke creates captivating works highlighting a blazing combination of vibrant, sweeping forms and lyrical expressionism.
With strikingly bold contrast in colour and lively configurations of contoured strokes, Fosbrooke generates luminous, elemental works focusing on figurate representations of nature and landscape. With silhouettes akin to dancing flames, the artist creates visual melodies, choreographing arrangements of intrepid hues and free flowing lines.
Each of Fosbrooke's unique pieces plays compliment to the intrinsic, surreal brilliance of the dynamic juxtaposition of light and shade in the natural environment. This celebration of the spirited divergence of foundations in nature is elevated through the exotically distinguished colour palette the artist employs in producing each work.
Fosbrooke's work embodies a vivacious appreciation for light and nature and stunningly communicates to the viewer that the world is alive and transforming before our very eyes. The masterful translation of movement through paint converts the artist's work from purely static visuals to stirring emotional imagery.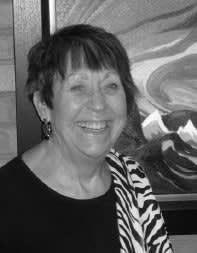 Jean has been interested in art for as long as she can remember. She began painting as a hobby, and after early retirement in 1993, Jean devoted herself full-time to her love of painting. Although initially self-taught, Jean has studied with Karen Gaetz (1983-85) and Norman Brown and taken numerous work-shops with established Canadian artists such as Mike Svob, Alan Wylie, Brent Laycock, Bill Duma and Neil Patterson.